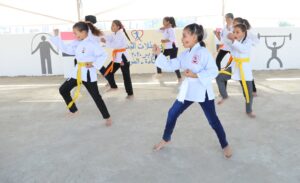 Opening: The Southern Champion's Sports Club (for girls) and the Illuminated Treasures Center for the Gifted in Naqada / Al-Toud – Qena Governorate – Egypt
ENSAN Aid, in cooperation with the Association for Development and Environment in Naqada Baltaud, and in the presence of many concerned parties, popular leaders, civil society institutions and the National Council for Women in Qena, inaugurated the Southern Champion's Sports Club and the Kunooz Center for the Gifted.
The opening of the club aims to enable girls to practice sports, especially karate, hockey and boxing, and this opening is considered a major leap in enabling girls in villages to practice sports.
As there are some villages and societies that do not allow girls to exercise their rights in practicing sports, due to some customs and traditions, this is for regular sports such as table tennis and others are not allowed, we are not bored with sports such as soccer, hockey and boxing for girls in the villages and communities most in need.
The Foundation also opened a bright treasures center for talented talents and their support), and the center includes many musical instruments of all kinds, developing the headquarters and preparing it to receive talented people.
The Kunooz Center also aims through its multiple mechanisms used, including the use of happiness TOKTOK , as it was called by the Youth Initiative to Go to the Happiness Tuktuk. Of talent.
The opening included a large presence and included: Dr. Mahmoud Al-Samman, founder, president, council members, and Human Aid team.
And from the National Council for Women, Qena as a main supporter of women's issues and girls' empowerment, Dr. Hoda Al-Saadi, the council's president and engineer Iman Assem, who support Qena's initiatives for empowering women and girls And a group of leaders, civil society institutions and society of all spectrums supportive of youth initiatives and the empowerment of girls.
Thank you who contributed and supported the young men and women to show their initiatives, and a special thanks to Professor Hamdy Kamel, Chairman of the Board of Directors of the Development and Environment Association, for all the support provided to young people so that their initiatives come to light.
Thanks to the youth and the team of the heroines of the south and the bright treasures team. We continue to do good for young people who have more influence on their